To manage a Twitter account effectively, generating quality content and posting at the right time is essential. So, here we will talk about 4 essential reasons to schedule your tweets at once and how to do it in a simple way.
1. Scheduling tweets keeps your account flowing
Regular posts are essential for Twitter traffic as it has a fast phase. Many social media users need to share content on a daily basis to stay updated. Whether you use social media individually or for business, it is important to share often to keep your audience's attention alive.
If you want to be a successful influencer or company, you have to deal with this overwhelming task. Twitter is a competitive field. You should know when to post to keep your Twitter account flowing.
2. Tweet scheduling helps to save time
To reach your audience at the right time you can use the scheduling option.
Let's say you are an influencer and want to share a "good morning" post with your followers. You do not have to think about what to post every single morning. Arrange your messages and photos at the weekend and schedule them.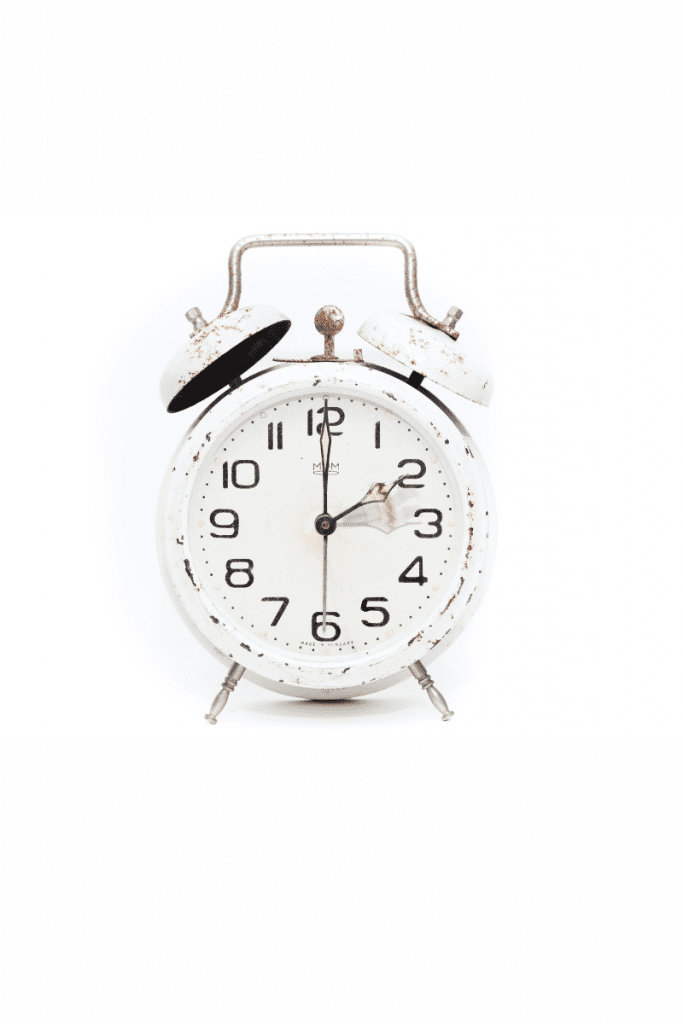 Maybe you are a nutritionist and it is important to share daily diet lists with your followers. You do not have to be in front of your computer especially on a busy day. Scheduling tweets eases this repetitive and intermittent traffic by enabling you to get your work done at one go.
For a business brand, scheduling is much more important. As a brand, you should be aware of when your customers are active on Twitter. If you operate globally, you must take different time zones into consideration. Promoting your products or services at the wrong time results in a loss of money and time. Scheduling contributes to your business growth on Twitter by capturing your target audience's attention at the perfect time.
3. Focus on your content
Content creation is one of the core tasks on social media. You should spend most of your time creating attention grabbing content. When you are in the mood, just focus on your niche and generate awesome posts.
You may like to share what you created at once. Do not let this interrupt you. Once your social media posts are ready, scheduling gives you convenience.
In a short time you can plan out what to share even weeks in advance. Make a plan and schedule your Twitter posts.
4. Increase your engagement
Scheduling, as previously stated, saves time. Now you can use the time you saved interacting with your followers: responding to their messages, answering their queries, and learning what they think. As a result, you increase your engagement rate. This also lets you get insights.
By just posting you can not know whether you are on the right track. You can get feedback from your followers by engaging with them. The more you interact with people, the more followers you gain. Scheduling enables you to take this opportunity.
Schedule your tweets at once
After evaluating the reasons to schedule your tweets, it's time to talk about a practical scheduling tool that enables you to schedule your upcoming tweets in bulk.
Soaster offers a scheduling service through which you can prearrange the content, date and time of your posts.
If you want to be a successful Twitter user, it is important to let your followers access new content every time they look for one. If you want to regularly post content but find it overwhelming and cannot make the time to do so, try Soaster now and enjoy the easiest way to schedule your Twitter posts. In particular, if you are managing multiple Twitter accounts, scheduling is a must.
Soaster will publish your posts automatically at the exact time.
It is important to often share a post to keep your audience's attention alive. If you want to be a successful influencer or company you have to deal with this overwhelming task.
How to schedule with Soaster
With Soaster it's quite easy to add a scheduled tweet.
First, sign up for a new Soaster account. You can also choose to sign up with your Twitter, Facebook or Apple account. The next step is adding your Twitter account to Soaster.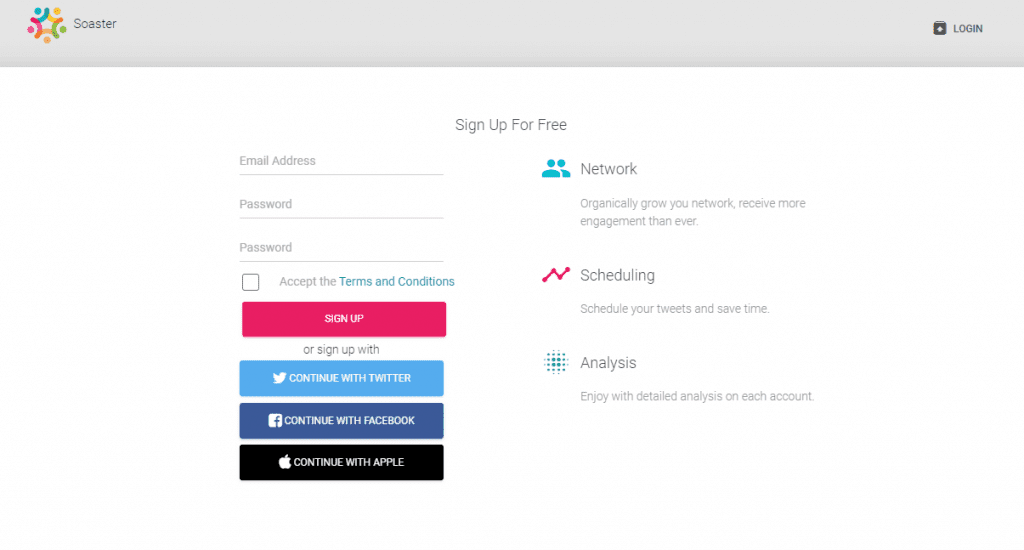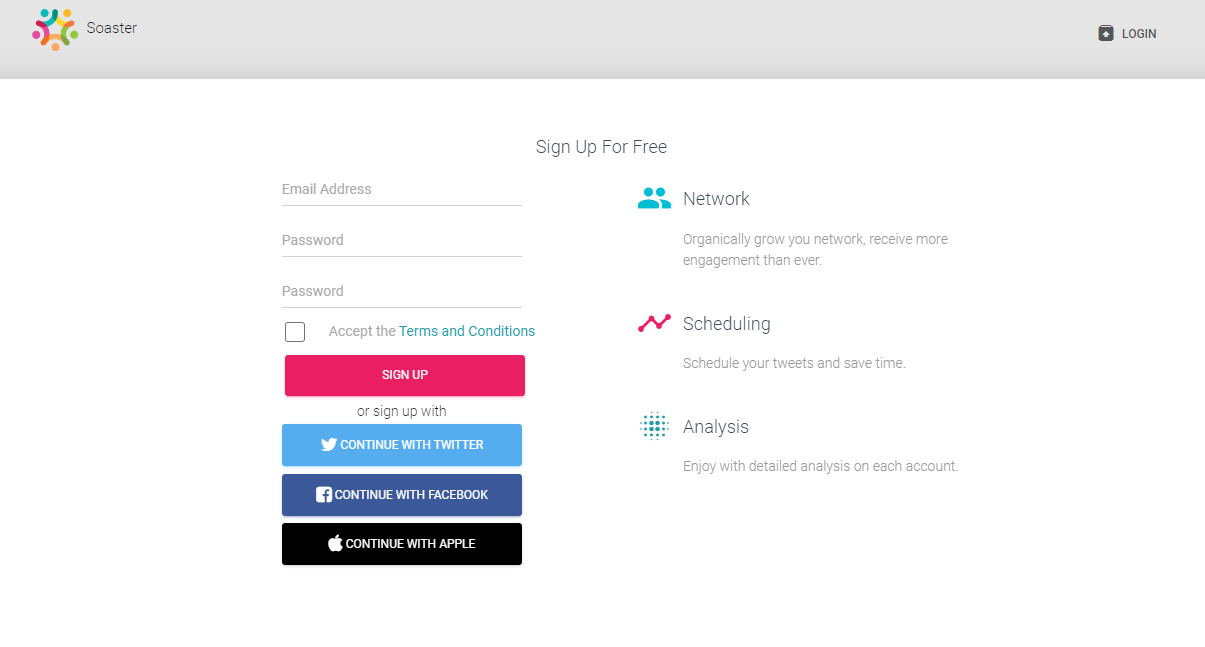 After completion,
On your dashboard click on "Tweet Actions", then "Scheduled Tweets" button.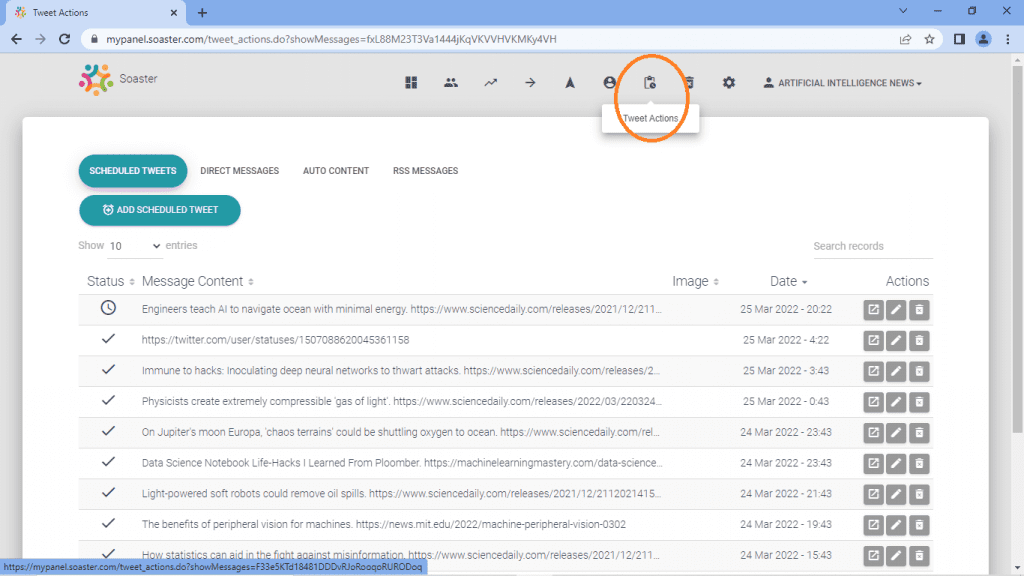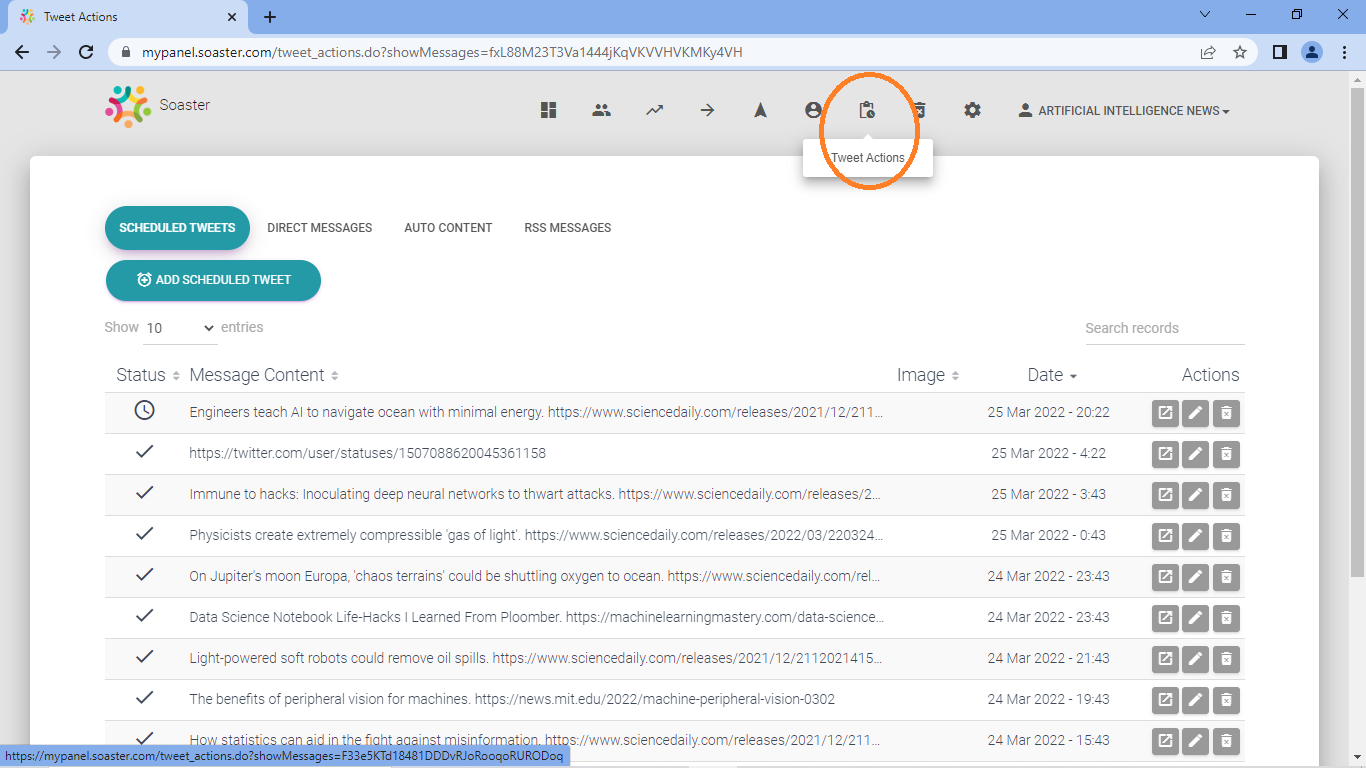 #1 On this page choose "Add Scheduled Tweet".
#2 After that enter your tweet content to be scheduled and define your sending time and date. Maybe you may like to send your tweet at a random time. If so, click "Randomize Sending Time" and select a period from ten minutes to one month. Soaster automatically determines the time and date to post your tweet.
#3 If you want to add an image file to your post, click "Select an image file". Finally click "Add" button at the right buttom and you're done!
You can always edit or eliminate your scheduled tweets before being posted.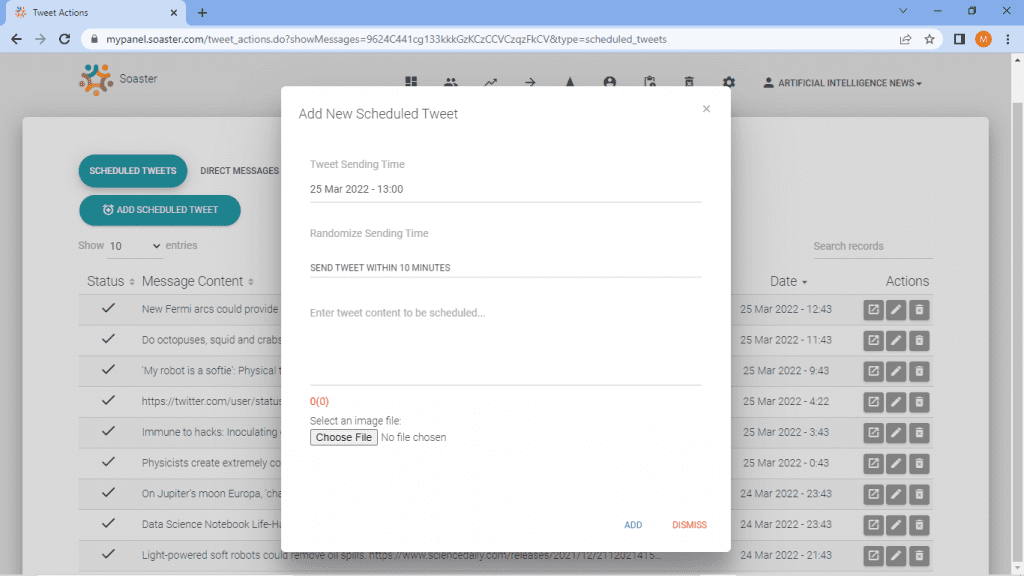 In this article, we discussed 4 essential reasons to schedule your tweets. Soaster allows you to schedule to 15 tweets at once with a Premium Plan (10 with Professional Plan.)
Besides being a tweet scheduler, Soaster also helps your account flow by curating content on your favorite topics. Also, you can add your preferred websites to Soaster and enhance your timeline.
Watch how to schedule tweets at once