Having multiple Twitter accounts is common among Twitter users. Maybe you are one of them as well. But, do you know how to manage Twitter accounts in one place without toggling from one to another?
In particular, digital marketers and social media agencies manage several Twitter accounts. The reason is simple: they have several clients and are responsible for handling multiple social media accounts, including Twitter.
Businesses may also own multiple accounts for different products or services like customer support etc. Also, individuals may prefer to have multiple Twitter accounts for different reasons. Let's mention three of them:
To avoid "Twitter jail"
Twitter account management is not free of problems. Most of you probably faced Twitter restrictions. The Twitter algorithm is especially alert to recently created accounts.
If you created an account and started to follow people to get a follow back, Twitter suspension is a big possibility.
Even if you have an old account, if you break a Twitter rule without knowing it, you may still go to Twitter jail.
In some fields, Twitter's rules and restrictions are gray. Twitter might label an account as "sensitive" if it contains tweets about horror books, whereas an account for adults might not be labeled as such.
So, you should have a general idea about Twitter's policy not to have any problem with your account.
Keeping all this in mind, having multiple accounts may be a good solution to avoid Twitter restrictions. If one of your accounts gets suspended, you can continue engaging with your friends and followers with a substitute account.
For your niche interests
If you have several hobbies or interest areas, you can create a Twitter account for each of them.
On your personal Twitter account, you can share thoughts, feelings, comments on politics, reply to others' tweets, etc.
However, you can use niche accounts solely to tweet about that particular field. For instance, you can create an account for gardening and share tweets about flowers, landscaping, etc. Or, if reading is your passion, you can manage an account only for books, bookstores, quotes about reading, etc.
Building niche accounts helps you reach the right audience and engage with people who share your interests.
To monetize Twitter
When you succeed in growing a niche account, you will be able to monetize Twitter by selling a product or service or by promoting small accounts.
Having multiple niche accounts may allow you to make more income. For instance, crypto fans like to follow accounts that mostly tweet updates and insights about cryptocurrency. Tweeting about cryptocurrencies from time to time on your personal account will not have the same effect as tweeting on a niche account. After building your authority on that topic, you may give financial advice or sell your e-book which includes your insights.
You may also want to build your authority on NFTs. So, create an account dedicated to NFTs and after growing a decent following, you can start promoting NFT projects.
How to manage multiple Twitter accounts
Whatever the reason, managing multiple Twitter accounts seamlessly is difficult. Twitter allows you to add up to five accounts in one login session. But what if you need to manage more than five? Then you will have to log in and out continuously.
Soaster provides you with a user-friendly option to deal with this tedious task. You can grow several Twitter accounts with Soaster.
It is so simple;
If you are already a member, on your dashboard click "Add Twitter Account" then connect your other account to Soaster.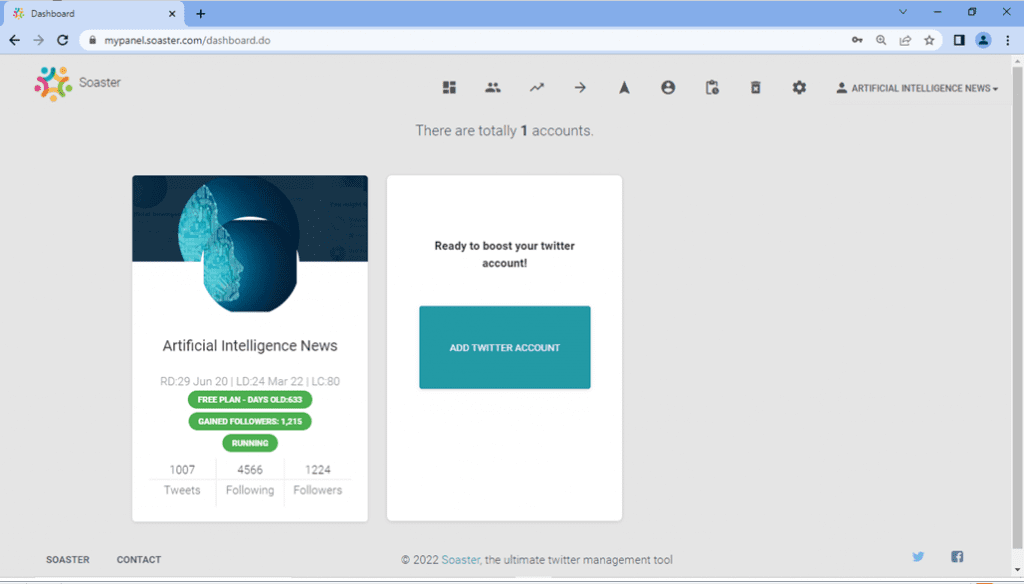 You can add as many accounts as you wish using the same process. Thus, you will be able to manage all your accounts from one dashboard.
At the top right corner of the page, by clicking "Manage Accounts", you can see all of your accounts connected and change your Soaster plan whenever you want.
Each account may have a different plan. For instance, you can manage four of your accounts for free and you may prefer a paid plan for just one of your accounts.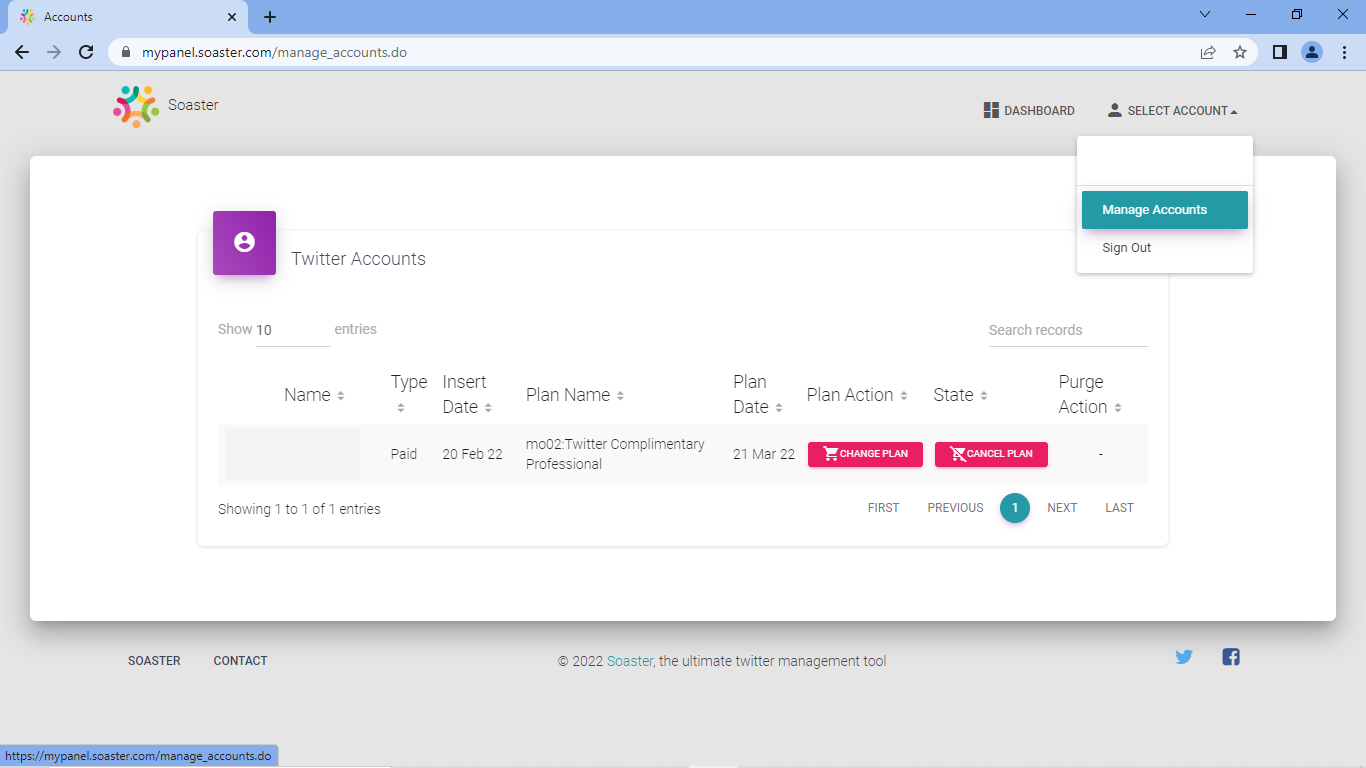 After adding all your accounts, you must set your preferences for each of them separately. For each account, define interest areas and acceptable languages so that our AI algorithm can crawl Twitter users and bring the most relevant ones in front of you.
This process is important since the more you engage with people who have similar interests, the more you can expand your network in an organic way.
From this single dashboard, for each account, you can also plan the posts for the upcoming days, track the account's growth, analyze the interaction with followers and followings, remove previous tweets, and much more.