If you wonder how to send direct message to your new followers automatically, keep reading to learn one of the best ways to build a good relationship with your audience.
One of the key points of expanding your Twitter community is your followers' contentment. When somebody follows you, it could be nice of you to send a direct message (DM) thanking that person.
You can also inform every new follower about your account. Whether you are offering a service, a product, an online course or an e-book, a brief message could be useful.
With the auto DM Twitter option, you can share relevant links with each of your new followers. This saves you a huge amount of time.
Auto-DMs increase your engagement
An auto-DM to a new follower may be a good way to start a conversation. You meet new people and it's an easy way of thanking them for the follow. Here are two examples: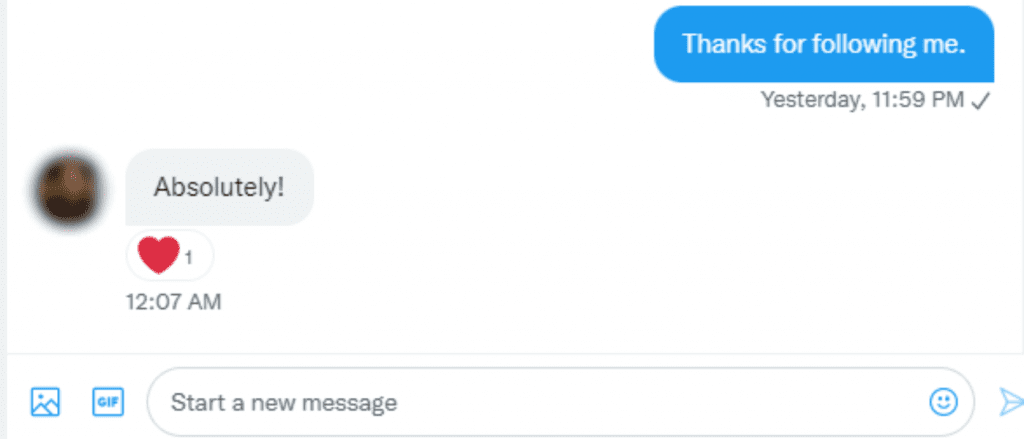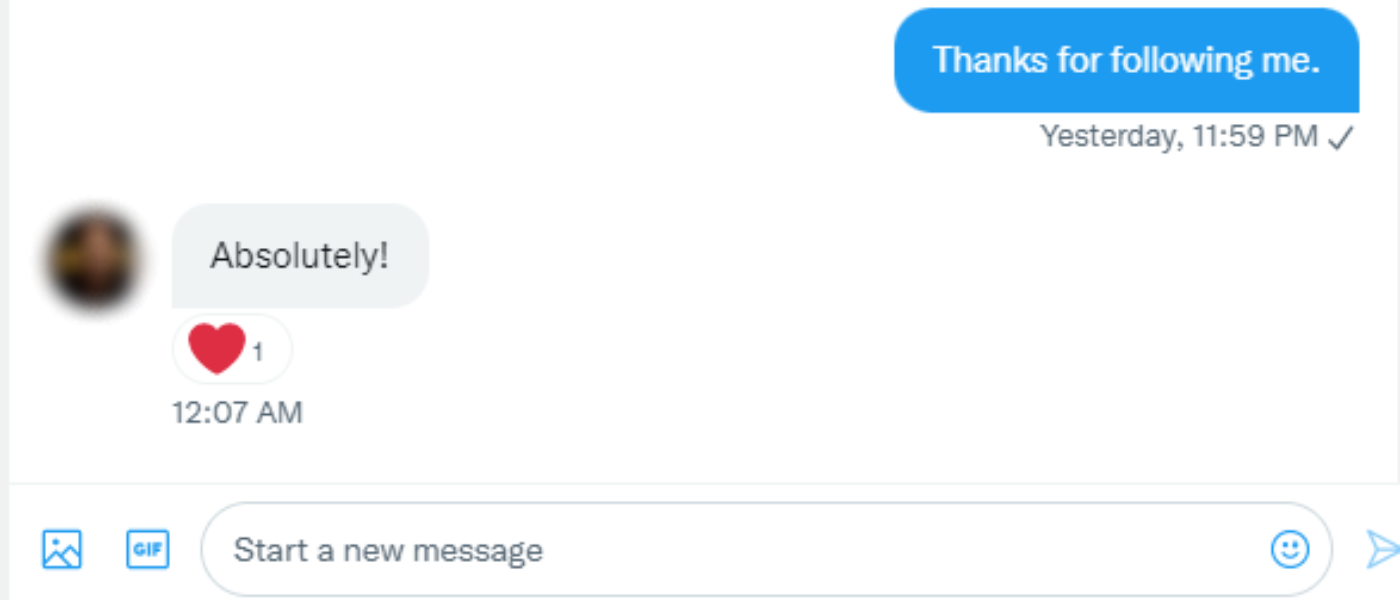 The more you build warm relationships with your followers, the more you grow your personal or business brand on Twitter.
Auto-DMs are Free and Optional
Soaster allows all users to send auto-DM to new followers for free. You can use this feature both on free and paid plans, but with a difference.
On every paid plan, your auto-DMs will look like a regular, organic DM: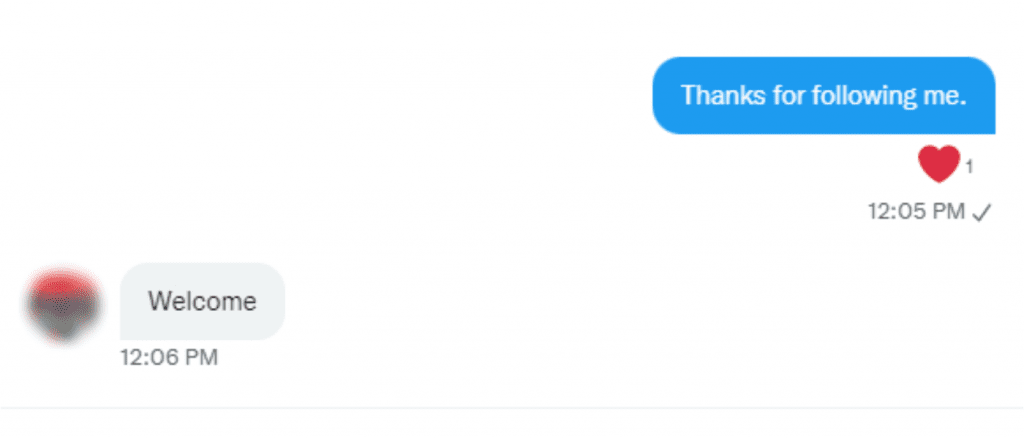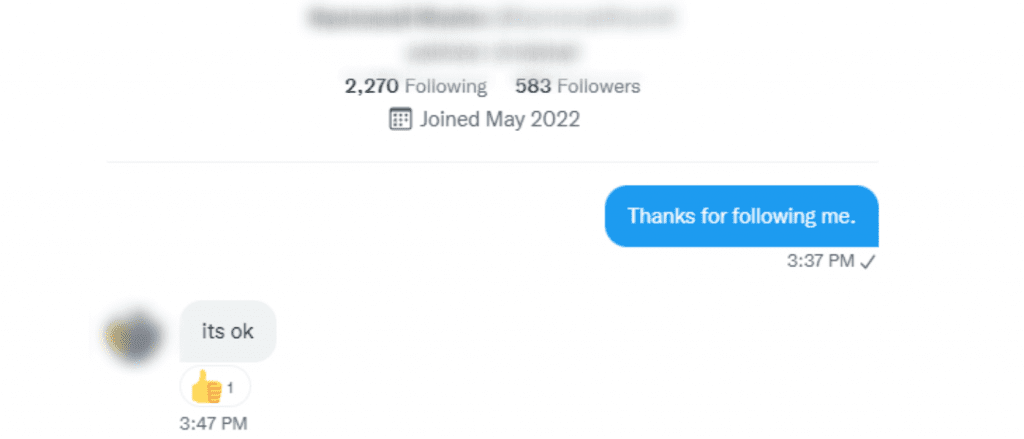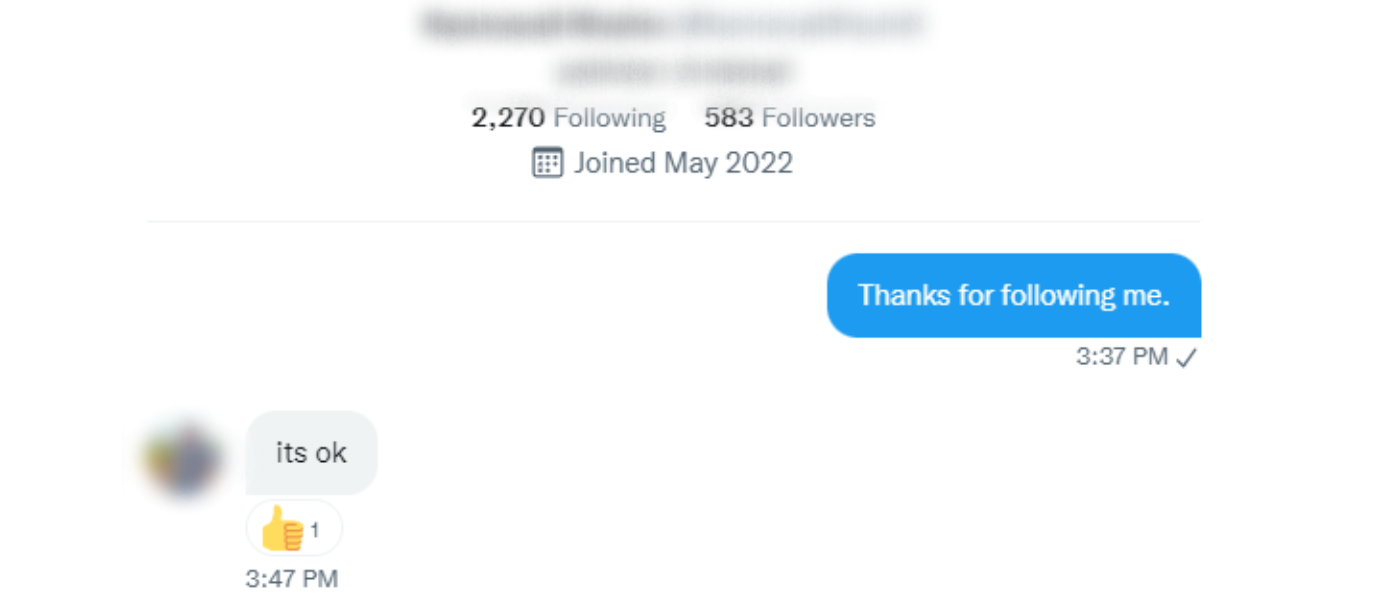 However, on free plan, we put a statement under auto-DMs saying that Soaster provided this convenience. So, your auto-DMs on free plan will look like these: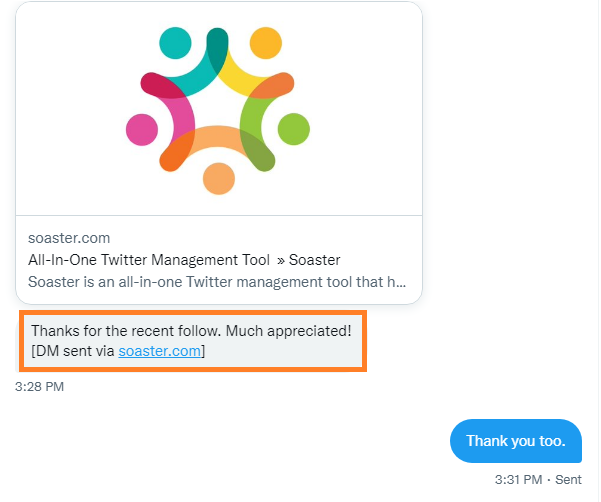 If you would like to continue sending add-free auto-DMs to your new followers, you should pick a paid plan.
PS-1: You can always uncheck the DM box and stop sending auto-DMs or change your message content as well.
PS-2: After subscription, it will take our system 24 hours to sync with your account to start sending auto-DMs.
PS-3: Inapropriate DMs are not our responsibility.
How to set up Auto DM on Twitter
First, sign up for a new Soaster account. You can also choose to sign up with your Twitter, Facebook or Apple account. The next step is adding your Twitter account to Soaster.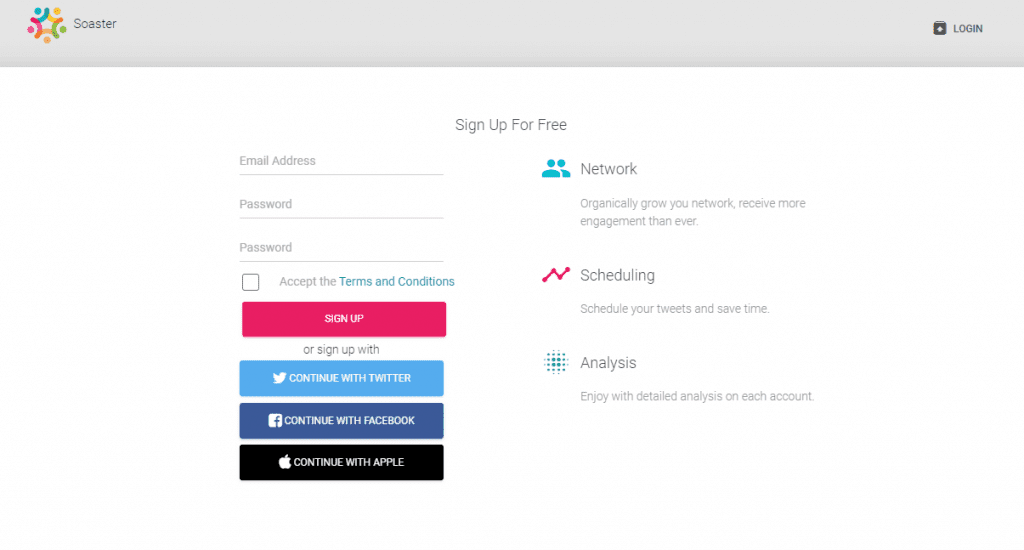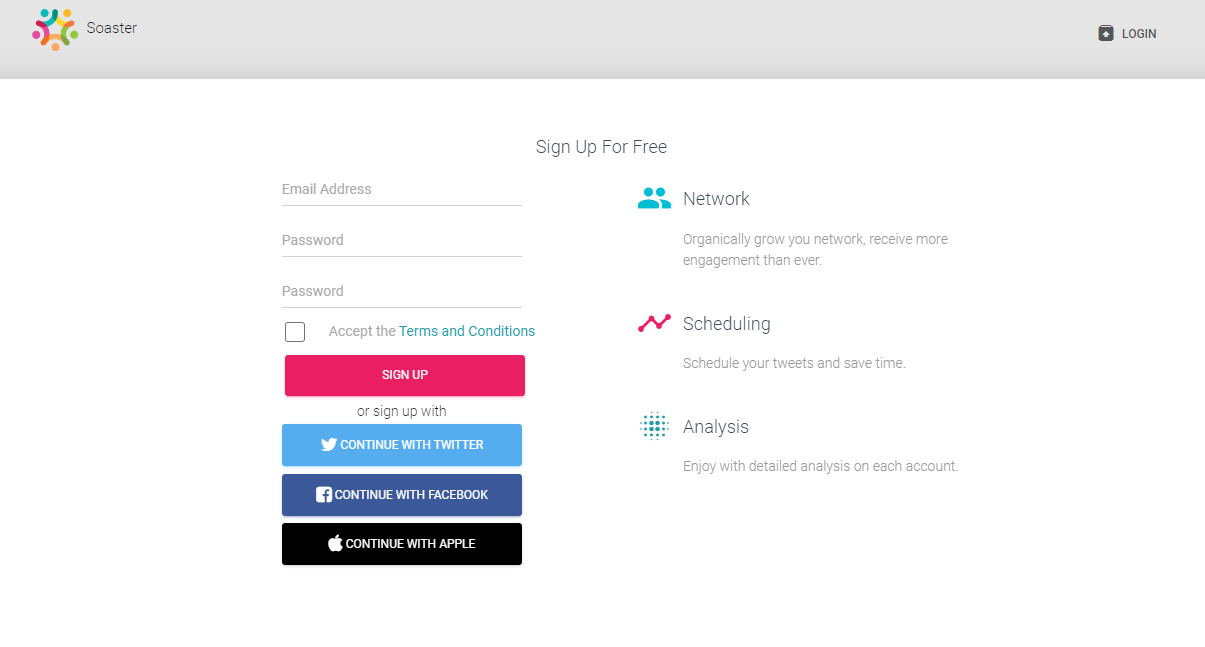 After completion,
Click on "Settings" button. At the bottom of the page fill the "DM Message" section.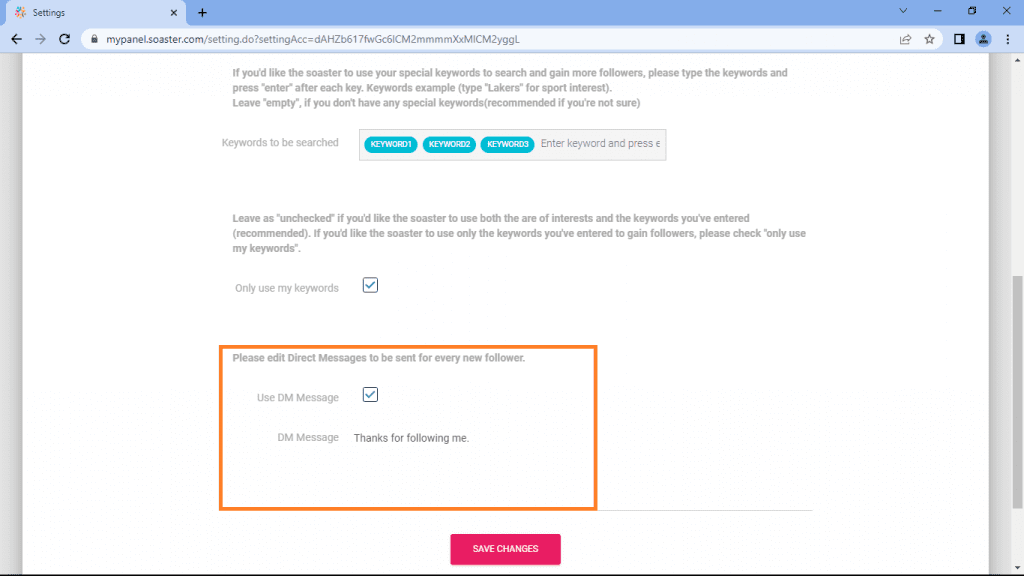 Do not forget to check "Use DM Message". Then click "Save Changes". Now Soaster is ready to send direct message to your new followers automatically.
How to write converting direct messages
We recommend you use a clear and explanatory language when sending an auto DM. Your message should not look spammy. You'd better explain why you are sending that message. Whether you want to thank your followers for the follow, to make them follow another account or introduce a product or service etc., your follower shouldn't feel uncomfortable. Here, let's see some examples:
To thank new followers
"Hey, thanks for the follow."
"Hi, thanks for following me."
"Thanks for the recent follow, I'll follow you back ASAP."
"Thanks for following. Could you please like or RT my pinned tweet?"
To make them follow another account
"Welcome to …… Please follow our main account @…….."
"Hey, you can also follow my account @…… to stay informed about……."
"Hi, thanks for following my personal account. To get tips on …. follow @……."
To offer them a service or product
"Hey, I'm …….. Thanks for the follow. I tweet about ……. and I send a weekly newsletter if you subscribe to my list by clicking this link: www.xxxxxx.com"
"Hey, thanks for following. You can download my free e-book on ……. here: www.asdfgh.com"
"Hi, welcome. We offer brand new products that you can use to…… Click here to learn more: www.aaaaaa.com"
"You can take my free online course on ……. Just go to ……… and subscribe. It's totally free."
Keep your link as it is
If you are using automated DMs to promote a service or product, or to give a link to a website or file to download, leave your link as it is. Do not use link shorteners. Let people see the link and decide whether to click it or not.
People may hesitate to click on a shortened link because they do not know where the link will take them. Give them trust and show the link as it is. If possible, utilize Twitter cards and allow your followers to see the featured image of the link. This will convince them more to click the link.
Watch How To Send Auto DM on Twitter
More automation features of Soaster
Sending automated direct messages is just one of the automation services that Soaster provides.
If you want to publish fresh news, articles or blogposts from any website automatically, you can connect RSS feeds to your Twitter account.
Maybe you want to plan your upcoming tweets. If so, you can schedule your Twitter posts by using Soaster.
Another automation option is auto content support. Soaster finds and publishes quality content from Twitter, Instagram, and Reddit that is relevant to your interests.