Ever asked yourself, "Who unfollowed me on Twitter?" You're not alone! If you've ever noticed that someone has unfollowed you on Twitter, then you know how it can feel when someone stops following your tweets. This feeling leads you to track who unfollowed you on Twitter.
It's probable that they unfollowed you simply because they got bored of your content, but it's also possible that their account was deleted by them or suspended by Twitter.
However, if this happens often enough it may mean that your posts aren't as relevant as they used to be. Fortunately there are ways of tracking who unfollowed you—and thus take actions to create better content.
How to see who unfollowed you on Twitter
With Twitter's follower numbers being such a big part of your personal brand, it's important to know when someone unfollows you. It's not always easy to keep track of who is following and unfollowing you manually.
Twitter shows your new followers through notifications but doesn't notify you when someone unfollows you. You can see that some people have unfollowed you, but there is no option to see Twitter unfollowers on the app itself.
To manually track unfollowers, log into your Twitter account. Click on "Profile" then "Followers". A list of all your followers will appear. Scroll through this list and identify anyone who is no longer following you. Obviously, this is an exhausting task.
To speed up this process, you should use an unfollower tracker to see who unfollowed you on Twitter.
Use Soaster to track unfollowers
There are several tools that make it easy to determine who follows and unfollows you on Twitter. Soaster is one of the most useful tools to track unfollowers. Soaster lets you see how many followers you have gained or lost over time, as well as the increase or decrease in your follower count with simple graphics. It also shows when they unfollowed you. This means that you can see who follows the account, as well as who has unfollowed it in recent weeks.
To find out who unfollowed you, click "New Engagements" on your Soaster account dashboard, then go to "Recent Unfollowers". Here you can see when people stopped following you and whether a specific user unfollowed you or not. If you want to unfollow some of these accounts, click on their profile picture. After checking them one by one, you may decide whether to unfollow or not.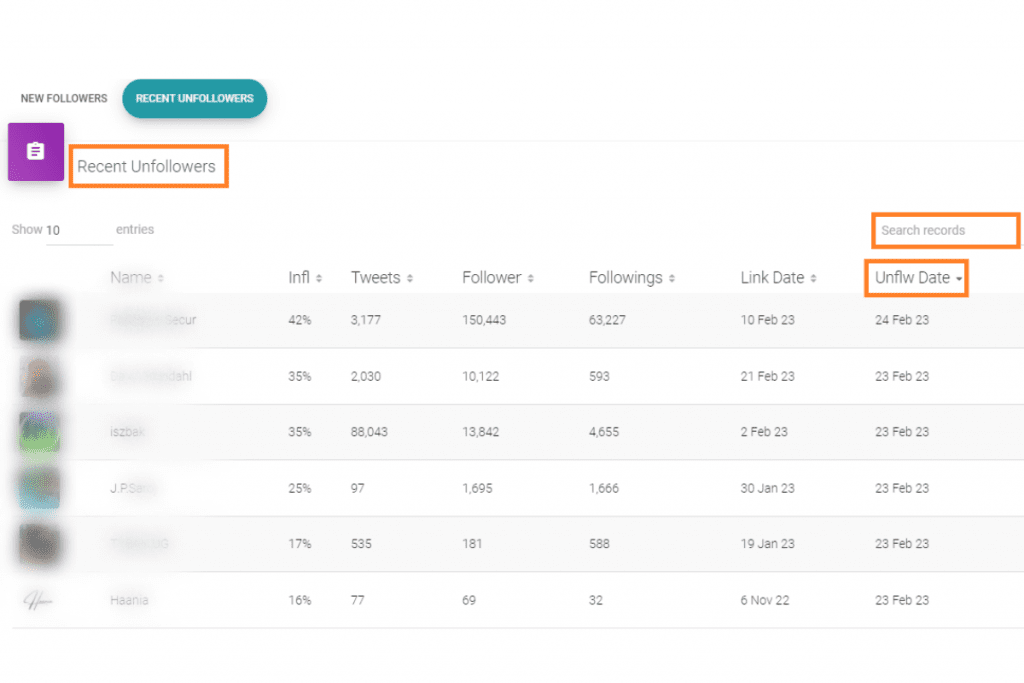 Why tracking unfollowers?
Finding out who is following and unfollowing can be helpful in determining what sort of content your followers enjoy. It can also help you identify your target audience, competitors, and influencers.
For example: If someone is following you but not engaging with any of your posts (likes/comments), then it's likely that this person isn't a good fit for your brand or niche. On the other hand, if someone unfollows you but continues to engage with posts from other accounts similar to yours (i.e., they are still liking/commenting on those posts), this might indicate that there was something wrong with one particular post rather than an overall dislike for all things related to yours! So, you should aim to have engaging followers.
In addition, you need to know who unfollowed you so that you can re-engage with them. You can also see their profile and see what they tweet about so that you can interact with them more effectively. This might help you gain them as followers again.
Conclusion
If someone stops following you on Twitter and they're not a spam bot, it might be because they find your tweets irrelevant or annoying. You should try to figure out why this is happening by looking at the content of your tweets, who else they follow (and why), and how often they engage with other accounts in the same niche as yours. Maybe they just unfollowed you because you didn't follow them back.
Whatever the reason is, to track unfollowers on Twitter, the solution is rather simple: use Soaster to find them out. Using Soaster will help you figure out who unfollowed you on Twitter, whether it actually matters, and how much of a change in your follower count occurred.
Frequently Asked Questions
How can I make sure I'm using the right tool to see who unfollowed me on Twitter?
To ensure you're using the right tool to check who unfollowed you on Twitter, you can verify the results of the tool by manually visiting the profile pages of some of the users.
Can I track my Twitter unfollowers without using third-party tools?
While third-party tools are the most efficient way to track Twitter unfollowers, you can manually check a user's profile page to see if they still follow you. However, this method is really time-consuming.
Can I use the same tool to track both unfollowers and new followers on Twitter?
Yes, some tools like Soaster not only allow you to track Twitter unfollowers but also provide a list of recent followers. This allows you to have a comprehensive understanding of your Twitter audience.
How can tracking Twitter unfollowers help improve my social media strategy?
By tracking Twitter unfollowers, you can gain insights into the reasons people may stop following you, such as content quality or posting frequency.
Can I track Twitter unfollowers for multiple accounts?
With Soaster, Yes! Soaster allows you to manage and analyze multiple Twitter accounts from one single dashboard.