If you have just created a new account and wonder "Who can send me a DM on Twitter?" keep reading. Here, we will try to answer all related questions about receiving direct messages on Twitter.
If you haven't changed anything on "Settings", by default, only Twitter users who you follow can send you DMs.
Other users who you don't follow won't be able to send you a DM, but they can still mention you in a tweet or reply to your public tweets.
Can anyone send me a DM on Twitter?
Do you want to allow other users to reach you via DM? If you have a business account or prefer to be connected to everyone, you should change your settings to accept direct messages from other Twitter users.
If you activate the "Allow message requests from everyone" setting on your Twitter account settings, then anyone can send you a direct message request. After enabling this option, anyone can message you and add you to group conversations, including those who you don't follow.
When someone sends you a message request, you will receive a notification in your Twitter inbox. 
You can choose to accept or decline the request. If you accept the request, you can then message the person back and they will be able to message you directly without any limitations.
Check your "Settings" again for new updates
Twitter is going through a modification process and has made some changes to encourage or maybe force account verification. As a result, there has been a significant increase in verified users.
So, a new update has come to DM settings. Twitter added a new option to choose from when deciding who can DM you. As you can see in the below image, from now on you can allow message requests only from verified users.
It seems that this option has been set to "default", so if there has been a decrease in the message requests dropped down to your inbox, this might be the reason. We recommend you re-check your DM settings on Twitter.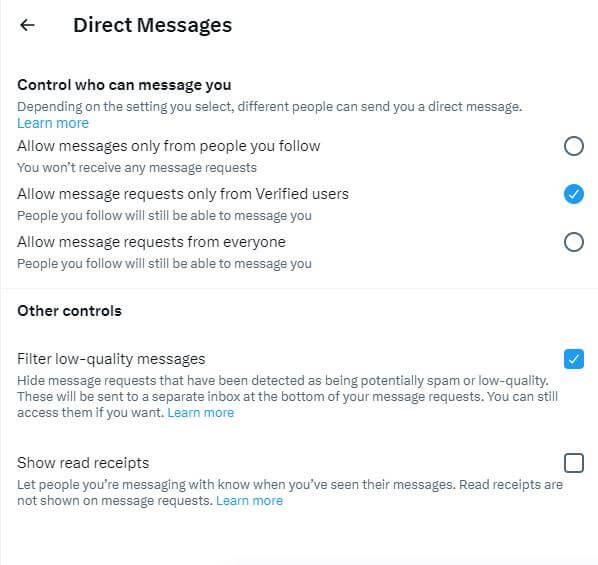 Should I allow everyone to send me DMs?
If you decide to receive direct messages (DMs) from anyone on Twitter, it's important to consider the benefits. Here are some:
Private communication: DMs allow you to interact privately with others on Twitter, meaning your conversation will not be visible to the general public. This can be advantageous if you'd like to talk about issues that are confidential, indicate personal information, or initiate a closer rapport with someone else.
Networking: Utilizing DMs is a great resource in order to expand one's network of peers and contacts, particularly if they have an industry-related or common interest. Through use of these privileged conversations, you can approach those individuals whom you admire and respect, request assistance, and formulate alliances with prospective customers or accomplices.
Customer support: Many corporations utilize Twitter to provide service for customers, with DMs providing a more private path of interaction between the customer and business for them to resolve matters.
Besides its benefits, there are some drawbacks of receiving DMs from anyone. It's important to note that allowing message requests from everyone can increase the amount of unwanted or spam messages you receive. Therefore, you may want to be cautious when enabling this setting and consider other privacy options, such as muting or blocking users who send you unwanted messages.
How can I stop receiving DM from anyone?
To stop receiving DM from anyone you should deactivate the option we mentioned above.
But if you have already interacted with someone you don't follow via direct message,disabling the "Message requests from everyone" will not prevent you from continuing to receive DM from that person.
You will need to either report the conversation or block the account to stop receiving Direct Messages from that account.
If my account is private, who can DM me?
The points mentioned above are valid even if your account is private. No matter the security settings for your tweets (private or not), anyone will be able to send a direct message if you choose to enable the option to accept these messages from all users.
Conclusion
"Who can send me a DM on Twitter?" is one of the most common questions, especially asked by those who are new to Twitter. In this article, we tried to answer some of the questions you might have about receiving DMs. There are pros and cons to allowing everyone to send you direct messages. Before changing your account settings, we recommend you consider the aforementioned points, or you can test it with the trial-and-error method.