Social media has become a potent tool for companies and brands to engage with customers, build trust and brand awareness. Nevertheless, with so much material being published on social media platforms daily, companies may need help to break through the noise and reach their target audience. That is where content curation comes in, which is choosing and distributing the finest material on a subject or theme. This blog article will examine the significance of content curation for brands on social media.
The value of content curation
Content curation is a simple process where you collect relevant content from multiple sources and then republish it using your own voice. The goal of content curation is to provide your audience with relevant information they will enjoy reading. Content curation is a great way to build brand awareness, increase engagement and build trust with your audience.
---
Increases Credibility
Publishing high-quality information related to your business or specialty will help develop your brand as a thought leader and authority in your area. By giving your audience relevant and informative material, you may build credibility and a solid reputation as a reliable source of information.
Sharing relevant information shows that you're an expert in your field and helps establish yourself as an authority figure in your industry. If your followers see that you're knowledgeable about a particular topic, they'll be more likely to trust what else you have to say on social media — including paid ads!
---
Improves Engagement
Using social media to provide exciting and intriguing information may help you establish a devoted following and enhance engagement with your audience. You can increase your social media stats and reach a larger audience by publishing material that connects with your audience and motivates them to like, comment, and share. When you share relevant, interesting content, your followers will be more likely to engage with it — either by commenting or sharing it with their own network.
---
Saves Time and Resources
Curating content may take time, particularly for firms with dedicated content staff. You can simplify your curation process and save time and resources that may be better spent on other elements of your company by utilizing a content curation platform.
---
Automate content curation with Soaster
Content curation isn't just about posting links to other sites. It's also about finding information that's relevant to your brand, company or industry and sharing it with your audience. Soaster is an effective content curation solution for your Twitter marketing strategy.
As a powerful Twitter management tool, Soaster allows you to publish news, articles, blog posts from websites you link to your Twitter account. The only thing you should do is connect RSS feeds of websites which provide helpful and informational content for your followers.
To use content curation for your marketing plan on Twitter, first identify the websites, including yours, that you want to share every update. Then connect them through your Soaster account dashboard. Whenever a new content is uploaded to your selected sources, Soaster will publish according to your preferences (time of the day, frequency, hashtags etc.). You can also share Youtube videos automatically using the same method.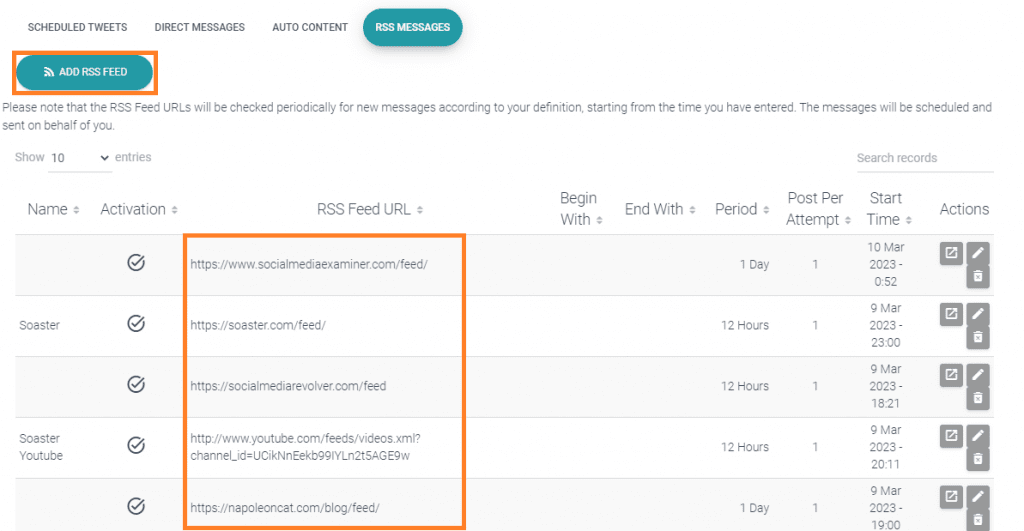 Another option Soaster provides is publishing social media posts automatically. You can select topics related to your niche and Soaster will tweet popular posts on your behalf. Soaster collaborates with Wowso, a social media content curation application, that brings relevant content together from Twitter, Instagram and Reddit.
---
Conclusion
Content curation is essential to social media marketing for organizations and brands. Businesses may build trust, improve engagement, and save time and costs by distributing high-quality, engaging, and relevant information. Content curation provides consumers with relevant and interesting content, which will ultimately lead them to your brand.