A virtual reality environment where users can interact with other users and a computer-generated environment is known as the Metaverse. Science fiction writer Neal Stephenson first used the term in his 1992 book Snow Crash. The use of the Metaverse is expanding along with blockchain technology and non-fungible tokens (NFTs). Twitter has become a popular platform to follow the latest news and developments in the Metaverse. In this article, we are going to list the 7 must-follow Twitter accounts for Metaverse updates.
@VRScout – Discover the Latest in Virtual Reality and Augmented Reality
VRScout Twitter account aims to keep you informed about the most recent developments in augmented reality (AR) and virtual reality (VR). It includes metaverse platform news and analysis, as well as VR gaming and immersive experiences. The account also includes VR device and software reviews, as well as interviews with VR developers and creators. VRScout is a fantastic resource for anybody interested in the metaverse and VR technology, with over 85K followers.
---
@Roblox – Explore the Leading Metaverse Platform
Roblox is a well-known metaverse platform that allows users to create and play games in a shared virtual environment. The @Roblox Twitter account keeps users up to date on new platform improvements, events, and games. It also includes interviews with Roblox developers and creators, as well as insights into the company's metaverse vision for the future. @Roblox is a must-follow account for anybody interested in the premier metaverse platform, with over 6.5 million followers.
---
@AxieInfinity – Play-to-Earn Gaming in the Metaverse
Axie Infinity is a play-to-earn game that allows players to earn cryptocurrency by playing the game. It has become one of the most popular Metaverse projects, with over one million daily active users. The @AxieInfinity Twitter account is a great source for learning about updates to the game and the Metaverse more broadly. It has over 850,000 followers and regularly tweets about new features and partnerships.
---
Nifty Gateway is a trading platform for NFTs. Nifty Gateway has grown in importance as NFTs become increasingly common in the Metaverse. The @NiftyGateway Twitter account gives information on fresh NFT drops and collaborations. It is an excellent resource for learning about the interaction between NFTs and the Metaverse, with over 250,000 followers.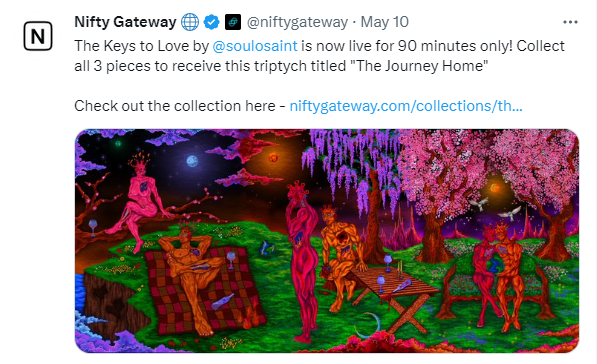 ---
The Sandbox is a blockchain-based gaming platform that allows players to create, share, and monetize their gaming experiences using non-fungible tokens (NFTs). The platform focuses strongly on creating a metaverse with voxel-based graphics and social features. The Sandbox regularly shares updates about its progress and partnerships with its 1 million followers on Twitter.
---
@decentraland – A Virtual World Built on the Blockchain
Decentraland is yet another blockchain-based virtual world that allows users to purchase, trade, and construct on virtual land using MANA, the local cryptocurrency. Decentraland is distinctive in that it is totally owned and run by its users, and users may even vote on future development suggestions for the platform. The @decentraland Twitter account provides updates on the metaverse's continuous development, user-generated material, and events.
---
@Metaverse – Curated content on Metaverse
The account tweets about a wide range of metaverse-related subjects, such as news, events, and research. They curate content from top resources related to metaverse. In-depth interviews with subject-matter experts are also included. Anyone who is interested in learning more about the metaverse will find the account to be a useful tool.
---
Conclusion
The metaverse is quickly becoming a popular issue in the IT industry, with major corporations such as Facebook and Microsoft substantially investing in its development. As the metaverse concept gains popularity, it's becoming increasingly crucial to remain up to date on its evolution and prospective applications. 
The Twitter accounts for Metaverse described in this article are good resources for staying up to current on the newest metaverse technology news, trends, and developments. Following these accounts will provide you with vital insights into the metaverse's growing scene, whether you're a gamer, investor, or simply inquisitive about the future of virtual reality.