You have likely heard of RSS feeds. But do you realize how important RSS is for bloggers? You're probably reading this article because you're a blogger. Like every other blogger, your ambition is definitely to reach a large audience. But how exactly?
As a blogger you aim to drive traffic to your blog via Google search and social media accounts. Sharing the URL link of each blog-post you create on different online platforms is time-consuming.
Sometimes you update an old blog, and this adds another workload. You must copy and paste the URL link of that blog post onto your social media channels.
Here, RSS feeds come into play.
What is an RSS Feed?
RSS stands for "really simple syndication." RSS feed syndicates your content. It allows subscribers to catch up with the latest content of regularly updated websites.
In other words, the feed informs the subscriber that the website has published new material such as articles, pieces of news, audio, or blog posts.
What are the Advantages of Using RSS Feeds?
Adding RSS feeds to your Twitter account has many pros. RSS feeds are advantageous both for readers and bloggers. Content publishers use RSS to keep in touch with a broad audience. The subscribers of an RSS feed receive the information they need without having to surf from one website to the other.
RSS Feeds for Readers
RSS offers the subscriber a centralized location where all the latest content is available. Finding everything you need in one single place saves time. By scanning RSS feeds, the reader can see the headlines and click on only the ones that interest him/her.
RSS feeds are free of spam. Also, RSS provides the subscriber with a comfortable experience. It gives only the information that he or she is interested in.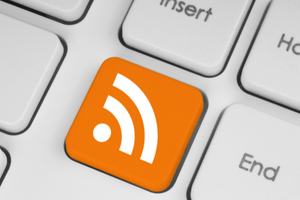 RSS Feeds for Bloggers
RSS feeds provide some advantages to the publishers, as well. As a blogger, you will need a feed if you wish to publish your material on other websites or social media networks.
RSS publishing is simple. Building an RSS feed for your content means you may have regular readers, and they follow your feed to keep updated. Thanks to the RSS feed, you can increase people's engagement with your content and have a wide audience.
Why should I add my blog's RSS feed to my Twitter account?
#1 You will be able to share content automatically from your blog.
#2 Whenever there is new content, it will be posted on your Twitter account.
#3 It will save you a lot of time since you will not have to put much effort into enriching content on Twitter.
#4 Last but not least, your audience will be updated, and it will boost engagement with your account.
Use a Twitter management tool
Twitter does not have an RSS feed any longer. However, some tools enable you to auto-tweet the RSS feed. Most offer you the opportunity to auto-post RSS to Twitter without requiring specific technical information. Once you have the feed of your blog, you can connect it via such tools.
Soaster is one of the most efficient Twitter management tools, which enables you to connect an RSS feed easily. With a few steps, you can enjoy this automation feature. Once you do this, your blog posts will be shared with your followers at certain intervals. As a result, you will save your precious time and energy.
Conclusion
RSS is a tool providing advantages both to the publisher and the end-user. If you would like to reach a wider audience via your Twitter account without spending too much time on it, you should try creating an RSS feed linked to your account.