As digital transformation continues at full speed, it can sometimes seem impossible to keep up with the ever-changing world and understand current strategies that will drive business growth. But there is actually an easy way to learn what works: Digital Marketing Influencers.
These industry-leading experts turn out to be excellent storytellers, describing their unique journey to success and how to apply the tricks behind that success to other businesses. Therefore, the real secret of their presence in digital media is much more than their knowledge and skill in technology and digital tools.
These experts are followed by large audiences as they constantly offer up-to-date content by touching on the points that businesses really need in the digital world. Besides, if you are a digital marketer, it's important to learn new trends and key points to become successful in your business career.
For example, do you want to identify your target audience and reach them through the right channels? Or do you need help understanding the constantly updated world of SEO? With the answers they provide on digital marketing, industry experts are just a click away.
In this article, we bring together 5 digital marketing influencers who will give you information and inspiration about digital marketing in 2022. So let's get to know the leading thought leaders of digital right away:
Neil PATEL
We can say that Neil Patel is one of the gurus of digital marketing, especially when it comes to search engine optimization and content marketing. Thousands of visitors come to his blog every day, and millions of people use his marketing tools.
Patel is the leading force in SEO education and has been labeled as one of the "top 10 digital influencers" according to Forbes. Neil Patel's website is a must-follow for any digital marketer, both for its amazing in-depth articles and great SEO tools.
Neil was born in 1985 in London, England. When he was a child, his family moved to Orange County, CA with him and his sister. Neil started taking classes at Cypress Community College while still in high school and later became an SEO consultant while in college. Neil is known for projects such as Crazy Egg, Kissmetrics, Hello Bar, Neil Patel Digital, SEO tool Ubersuggest, and his successful podcast School of Marketing.
Patel, a podcast that receives 1 million listens per month, has more than 1 million Facebook followers and 440,000 Twitter followers, as of October 2022. Also, Neil Patel has over 1 million subscribers on YouTube. Patel produces inspiring, data-driven and innovative videos on a range of topics from SEO optimization to content marketing, keyword usage and e-commerce on digital marketing on his channel.
Judging by Neil's blogs, customer reviews are a pillar of Neil's marketing strategy. As you can see from his many posts on the subject, his review tactics are simple and straightforward.
Neil regularly asks for your opinion on the topic at the end of each blog post. The habit of always asking for review from the reader, viewer or listener is in his characteristics, from which he gets results. What's more, Neil tries to respond to people's comments and reviews as best he can, making it easy for people to comment.
When it comes to digital marketing, Neil Patel knows very well how he can help companies generate real and effective results.
Follow Neil Patel on Twitter.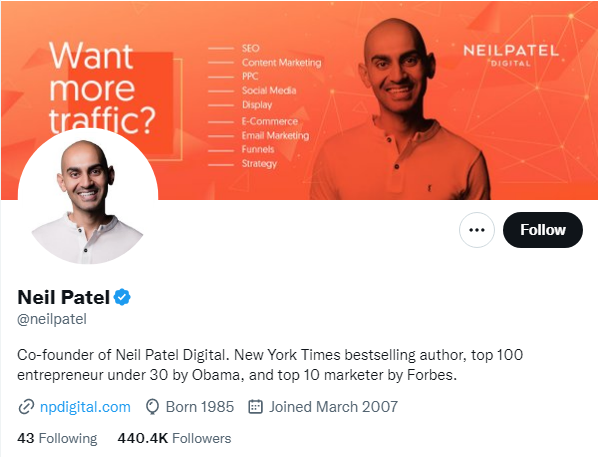 Rand FISHKIN
Rand Fishkin is a digital marketing pioneer, CEO and co-founder of Moz.com, and author of Lost and Founder. He was born on July 10, 1979, in Bellevue, Washington. Fishkin grew up in Seattle and went to Stanford University. He founded Moz with his mother, Gillian Fishkin, after graduating from Stanford. Thanks to Rand's hard work and dedication, Moz has managed to become one of the best resources for information on SEO and online marketing.
Rand is also known for his blog "SEOmoz," where he writes everything from his personal life to business advice. He emphasizes empathy, which he often highlights on his website. "Put yourself in your audience's shoes and get into their lives," Fishkin says. "What are they influenced by, what are their motivations for sharing, how and for what purpose do they use the content?" He claims that brands that create content by attempting to think similarly to their target audience can quickly stand out from the market's average content.
Fishkin has more than 20 years of experience in all aspects of online marketing, from building brands to generating revenue for some of the world's largest companies. He is one of the world's best known digital marketing influencers. In addition, Fishkin has 14 novels written.
As of October 2022, Rand Fishkin has approximately 35K followers on Facebook, 11K on Instagram and 470K on Twitter.
If you trust SEO techniques and want to grow your project by ranking high in search engines, follow Rand.
Follow Rand Fishkin on Twitter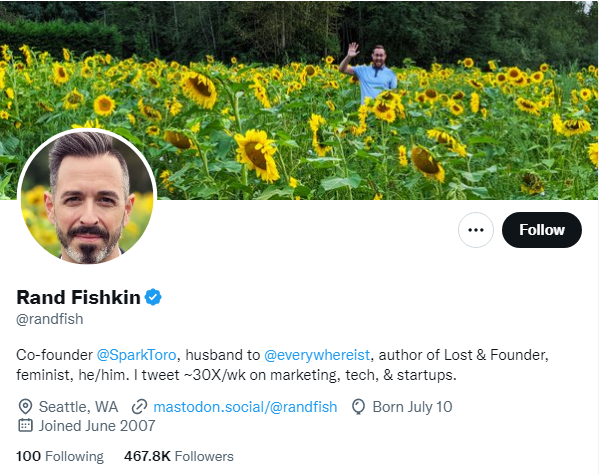 Danny SULLIVAN
Sullivan was born in 1965 and grew up in California. He graduated from the University of California, Irvine. Danny helped found Maximized Online with programmer Ken Spreitzer. He started his professional career in 1989 as a newspaper graphics researcher for the Los Angeles Times. In 1994, he quit his job to become a graphic reporter at the "Orange County Register".
Realizing the rise of the internet in 1995, Danny Sullivan thought that newspapers would not develop as much as he wanted and left his job. Then he started working as a general manager in his friend's company. In this company, they were making websites for businesses in California. When they started to work, they brought the well-known companies of the environment to the internet.
The only job of the company where he worked as the general manager was not only web design, but also providing search engine optimization services. However, Webmasters did not know much about search engines in those years. In his spare time, he researched search engines and published everything he knew in April 1996 in the title "A Webmaster's Guide to Search Engines".
Following the success of "A Webmaster's Guide to Search Engines", Danny Sullivan launched Search Engine Watch in 1997, a website dedicated to providing news about the search industry, tips for searching the web, and information on how to rank websites better. 10 years later, after leaving SEW, Sullivan founded another popular search publication, Search Engine Land.
Danny Sullivan, who has achieved a lot of success with his researcher personality throughout his business life, has created a lot of content about Search engines and marketing and shared it for free. With the Third Door Media he founded, he has become a light to search engine optimization. He regularly brings his knowledge to all parts of the world with more detailed explanations through conferences he calls SMX.
According to Entrepreneur, Danny was one of 50 marketing influencers in 2015.
As of October 2022, Danny Sullivan has approximately 535K followers on Twitter, 100K on Facebook and 5K on Instagram.
Follow Danny Sullivan on Twitter.
Ann HANDLEY
Ann Handley is a digital marketing pioneer, writer and speaker, as well as a Wall Street Journal bestselling author.
Handley was born on November 3, 1963, in the United States. As a child she wanted to be a writer and began writing neighborhood newsletters and distributing them to people's mailboxes. Handley graduated from Simmons University's Department of English Language and Literature.
Ann Handley started her career in 1985 as an associate editor at Banker & Tradesman. She joined the Boston world in April 1990 as a reporter for Boston, the Boston Globe and the leading news and analysis resource in New England. She has also worked as a writer and editor for various commercial and consumer publications. Handley founded ClickZ.com in 1995 as the world's first source of digital marketing news and reviews. She later sold it in 2000.
Handley's popular book, "Everybody Writes : Your Go-To Guide to Creating Ridiculously Good Content," is a Wall Street Journal bestseller. Her books have been translated and published in more than 19 languages.
Ann Handley, who was shown as the "most influential woman in Social Media " in Forbes, was named one of the "top 20-woman bloggers" in ForbesWoman.
Ann Handley is currently Head of Content at MarketingProfs, an education and training company with the largest community of marketers in its category. The company promotes content marketers and writers worldwide through its online and face-to-face training programs with over 700,000 subscribers.
As of October 2022, Ann Handley has approximately 465K followers on Twitter, 9.2K on Facebook and 27.5K on Instagram.
Follow Ann Handley on Twitter.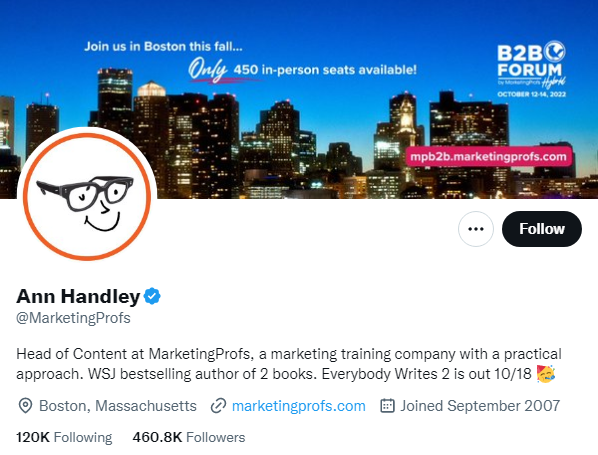 Pam MOORE
Pam Moore is a globally recognized professional in social media, digital marketing, social selling and branding. Moore is CEO and co-founder of Marketing Nutz, a social media and branding agency.
Pam Moore talks about the concept of the "Social Zoom Factor" and the best use of social media in her writings. Moore is one of the Top 10 Social Media Influencers according to Forbes.
In addition, the expert, who is a famous speaker and bestselling author, also hosts the Social Zoom Factor podcast. She previously worked with corporate marketing teams for 15 of the world's most recognizable brands. Today, Pam Moore runs her own digital marketing agency.
By following Moore's Facebook, Twitter and LinkedIn accounts, you can have the most up-to-date information about many digital marketing strategies.
As of October 2022, Pam Moore has approximately 285K followers on Twitter, 11K on Facebook and 5K on Instagram.
Follow Pam Moore on Twitter.