Analyzing the influence of your Twitter followers is very important if you want to use this social media platform effectively. Besides, if you have a business or brand looking to promote your product or service on Twitter, analyzing your followers can help you identify influential users. You can get in touch with them to reach a larger audience.
You can learn a lot about who your most influential followers are by looking at their influence rate. It's important to understand the degree of their influence on their followers. as these are the people who can help you reach new audiences. You can also use this data to build potential collaborations – this can help to promote your brand and increase your popularity on Twitter.
How to track your top followers
If you want to use a Twitter application or tool that allows you to analyze your followers, be sure that it has follower analysis features. Soaster, as a powerful Twitter management tool, has an analysis tool to see your top followers. You can see the influence rates of your followers and the accounts that you follow.
You can view a list of your top 100 followers and followings by clicking on "Top Engagements" on your dashboard. They are sorted by influence rate by default. You can also sort them by the quantity of followers, date etc.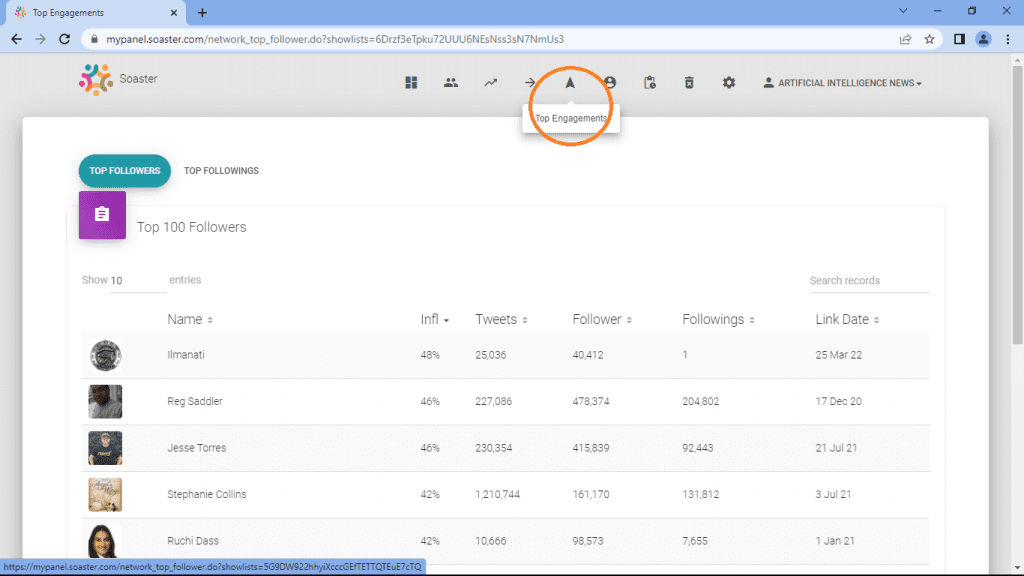 This analysis reveals which accounts of your Twitter network are the most influential and active on the platform. Interacting with these accounts can also help you boost your online presence.
Additionally, this analytics will give you a sense of your followers if you intend to run an influencer marketing campaign. Look over their profiles and data before choosing who to work with. They are more likely to take part in your campaign because they are your followers and already know about your brand.
Conclusion
Do not underestimate the need to analyze your Twitter followers regularly. Analyzing the influence of your Twitter followers can give you helpful ideas to perfect your Twitter strategy. Leveraging your followers' reach as a promotional tool for your business will undoubtedly have a big impact on your overall social media marketing campaign, leading to success on the platform.